Nyack Snow Park Prices
Admission to the Nyack Snow Park is charged per vehicle, which includes up to 6 passengers. Admission is good for the entire day. Larger groups should inquire about special parking arrangements and considerations. Walk-in visitors pay the same parking admission fee.
Rates:
$20 per vehicle (up to 6 passengers)
Hours:
9:00 AM until dusk
It is wise to check ahead to be sure they have enough snow to open.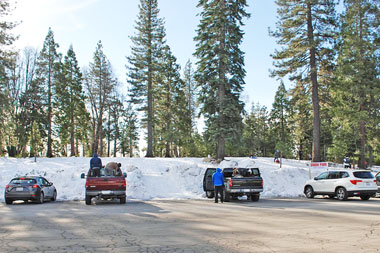 Nyack Snow Park Contact Information
Highway 80 at Exit 156, Emigrant Gap, CA
530-389-8214 ext. 25
Current Conditions and Weather Forecast
Nearby Sno-Park
One of California's Sno-Parks is located off Interstate 80 at the same exit as Boreal Mountain Resort on Donner Summit. At the exit, instead of turning right to the ski area, turn left to the Sno-Park. A permit is required to park at the Sno-Park from November 1 through May 30. Day permits are $5, season permits are $25.
The Donner Summit Sno-Park is popular with cross country skiers and snowmobilers. The level area around the parking lot is good for snow play and there are some small, undeveloped sliding hills nearby.
Sno-Park permits can be purchased online with an additional $1.95 added to the price: Sno-Park Permits. Or permits may be purchased from local Sno-Park Permit Vendors.